The PARC Group, in partnership with Skinner Bros Realty, is pleased to announce The Dolly Llama Waffle Master will be opening in The Exchange at eTown in Summer 2023.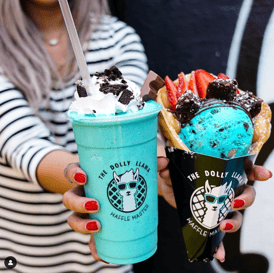 The Dolly Llama Waffle Master is a modern dessert shop where all guests can enjoy hand-crafted waffles and ice cream. They offer authentic European flavors and techniques, including Belgian waffles and Hong Kong Bubble Waffles, prepared with a special batter that produces a unique crispy and custard-like texture.
Owners Stacy and Anthony Searcy look forward to opening Dolly Llama's second location in Northeast Florida within the eTown community. "My husband and I fell in love with The Dolly Llama Waffle Master. Not only is it delicious, but it truly is a fun experience."

The three unique waffle styles -- OG Liege Waffle, Bubble Waffle, and Bubble Waffle Jr -- are the base of the interactive menu. Guests will then decide which of the menu items they would like to select: a waffle and ice cream dessert, ice cream waffle sandwich, signature shake, or create their own, where customers are encouraged to "go nuts'' with unlimited toppings resulting in endless flavor possibilities and combinations.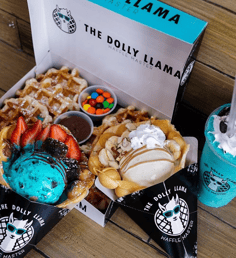 The Dolly Llama will be located in The Exchange in the Publix shopping center.
In eTown, home-buyers can find
neighborhoods
and homes to complement a wide range of lifestyles and price-points.
The PARC Group
, eTown's master-developer, recently announced the final
neighborhood
as well as a mixture of
retail, office, and residential space
coming to the west side of the eTown Parkway/9B interchange. To stay up-to-date on everything going on, sign up for
eTown Development Updates.
---
On social media? Then be sure you're following us on Twitter, Facebook, Instagram and LinkedIn! For more information about eTown, visit etownjax.com or email thehub@etownjax.com.