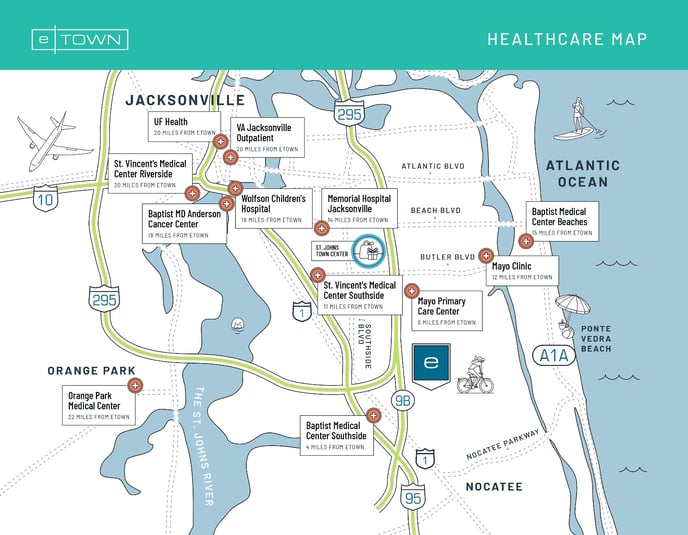 From the Beaches to Downtown Jacksonville, there is a plethora of hospitals, specialty centers and primary care options surrounding the eTown community. Let's take a closer look at some nearby healthcare options, broken down by area of town.
Southside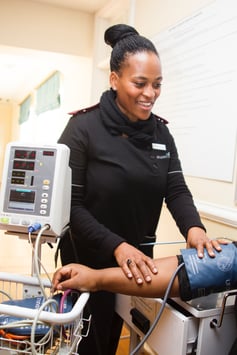 Baptist Medical Center Southside (4 Miles from eTown)
A full-service medical campus just minutes from eTown Parkway, Southside provides the full benefit of Life Flight, Maternity Care, Heart & Vascular, and more. It is ranked by U.S. News & World Report as one the top facilities, alongside Baptist Medical Center for gynecology, diabetes and endocrinology. Nearing completion, eTown residents will have access to a brand new Children's ER.
Mayo Primary Care Center (6 Miles from eTown)
eTown families will have access to top care teams at Mayo Primary Care Center conveniently located off the I-295 Beltway. The Gate Parkway location offers a multitude of services such as flu shots, immunizations, sports medicine, and well-baby visits. This site also includes on-site lab and radiology. For a list of all services, click HERE.
Memorial Hospital Jacksonville (13 Miles from eTown)
Memorial has been serving Northeast Florida for over 40 years with innovative and leading care from a team of over 800 physicians. Recently, Memorial Hospital earned the 2019 Healthgrades Patient Safety Excellence Award, and 2019 Women's Care Excellence Awards in Labor & Delivery/GYN Surgery. Learn more HERE and find out why Memorial Hospital is one of the best in the area.
St. Vincent's Medical Center Southside (10 Miles from eTown)
For emergencies, primary or urgent care, St. Vincent's has been serving Northeast Florida for over 100 years. Services include Family Medicine, Internal Medicine, and Pediatrics. St. Vincent's provides quality care for new and existing patients, and ranks "high performing" for Hip and Knee Replacement.
Beaches/Intracoastal West
Baptist Medical Center Beaches (18 Miles from eTown)
Whether acute care or critical care, Beaches Baptist serves not only the beaches but the greater Jacksonville area as well. eTown's location affords an easy route to superb medical care. Baptist beaches is one of the Top 100 Hospitals in the nation, including Magnet Hospital-American Nurses Credentialing Center and Community Benefit Achievement Celebration of Service Award-Florida Hospital Association. To learn more, click HERE.
Mayo Clinic (14 Miles from eTown)
Founded in 1986, Mayo Clinic was awarded the 2018 Quality Leadership Award honoring superior performance for patient care. Synonymous with World-Class Healthcare, Mayo is distinguished as a leading health care system in Florida, Arizona and Minnesota. Mayo Clinic in Florida is known for having the nation's leading liver transplant program.
Downtown
Baptist MD Anderson Cancer Center (18 Miles from eTown)
North Florida's champion cancer center, MD Anderson brings state of the art services to the First Coast. Baptist Health System is currently ranked "most preferred" provider in the greater Jacksonville area. eTown residents will have the option to choose from a variety of dedicated specialists. Click HERE to learn more!
St. Vincent's Medical Center Riverside (18 Miles from eTown)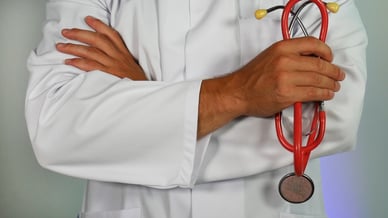 Providing charitable service to the greater Jacksonville Area for over 130 years, St. Vincent's is the nation's largest Catholic and non-profit health care system. St. Vincent's Medical Center rates "high performing" in Knee Replacement, Heart Failure and Chronic Obstructive Pulmonary Disease (COPD).
UF Health (21 Miles from eTown)
University of Florida Health's reputation of excellence provides patient care in Dentistry, Medicine, Nursing, Pharmacy, Veterinary and more. U.S. News & World Report ranks UF Health Jacksonville as high performing in three specialties. To learn more about UF's Hospitality & Service to area communities' click HERE
VA Jacksonville Outpatient (20 Miles from eTown)
VA serves acute or chronically ill Veterans of Northeast Florida, and includes Veterans Crisis Line with chat, text, and call support. Register today – click HERE
Wolfson Children's Hospital (16 Miles from eTown)
Wolfsons offers services from A-Z for your child in the BRAND NEW five-floor Wolfson Children's Critical Care Tower. To learn more about this hospital's high-rankings and awards, click HERE. Another unique offering- Wolfson Children's pet therapy program also offers volunteer opportunities!
West Side
Orange Park Medical Center (17 Miles from eTown)
Orange Park Medical Center offers 24/7 Emergency Care, and specializes in cardiac care. See HERE for Pediatric Services, Cancer Care, Women's Center and more. You can view more about Orange Park Medical Center's 12,000 sqft expansion by visiting their website. OP Medical Center continues to be recognized by Healthgrades in multiple categories.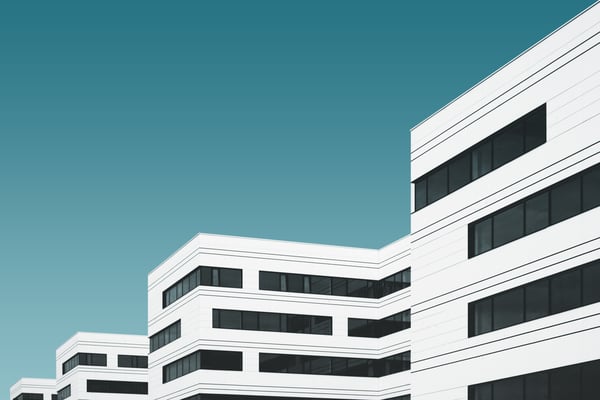 At eTown, convenience is more than location. eTown is thoughtfully located between the St. Johns Town Center and Flagler Center on 9B (I-295) just minutes away from Jacksonville's premier healthcare!
---
On social media? Then be sure you're following us on Twitter, Facebook, Instagram and LinkedIn! For more information about eTown, visit etownjax.com or email thehub@etownjax.com.