eTown won BIG at this year's LAUREL Awards Gala hosted by the Northeast Florida Builder Association's Sales and Marketing Council. This is the first year that eTown has participated in the event and it was an absolute success!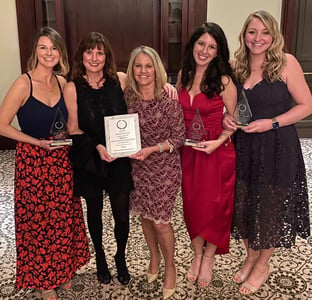 The PARC Group, eTown's Master Developer, took home four awards between eTown and Nocatee. eTown was awarded 'Best Welcome Center' for The Hub as well as 'Best Facebook Page' and 'Best Digital Marketing Program.' Nocatee was awarded 'Best Lifestyle for a Community.'
eTown officially opened The Hub at eTown in October 2019. Mixing modern and rustic design, The Hub is the perfect first stop in the large new community. Since opening, residents, guests, and future home-buyers can enjoy free Wi-Fi, fresh coffee, and warm cookies while learning about neighborhoods, builders, future amenities and more. Representatives are available for visitors seven-days-a-week!
The annual black tie affair was held on Friday, February 21, 2020, at TPC Sawgrass. Many of eTown's actively-selling builders won architectural and interior design awards for model homes located within various eTown neighborhoods. To view a list of all 2019 LAUREL Award Winners, click HERE
On social media? Then be sure you're following eTown on Facebook, Instagram, Twitter and LinkedIn! For more information about new homes available, visit The Hub at eTown, explore etownjax.com, or email thehub@etownjax.com.