Updated 2/18/21
eTown residents don't have to wait for Thanksgiving or Christmas to get that post-feast nap we all know and love. Restaurants in Jacksonville are abundant, providing lots of options for a night out with your other half or the whole family.
Here's a list of Jacksonville's most popular dining so you can savor good food any time of the year, without messing up the kitchen:
Baymeadows Area (7 miles from eTown)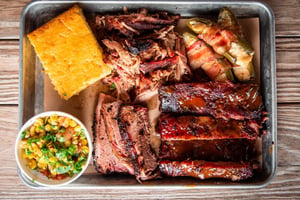 4 Rivers Smokehouse — Declared "The Best BBQ in Florida" as well as one of "The South's Best BBQ Joints" by Food & Wine and Southern Living Magazines respectively, 4 Rivers is a family-owned business specializing in slow-smoked barbecue, home-style sides, and fresh bakery items in a family-friendly casual dining environment. If you have any room after all that BBQ, check out their Sweet Shop! You won't be able to resist their spread of dessert bars, cake balls, bread pudding made from scratch with Krispy Kreme doughnuts, Bananas Foster, Fried Oreos, and more!
Whiskey Jax — Wind down after a long week at Whiskey Jax, a local, chef-inspired gastropub with 140+ whiskeys, 24 beer taps, 10 TVs, and live local entertainment. Guests can enjoy juicy gourmet burgers and other savory menu items at lunch or dinner, and whiskey flights during evening trivia.
5th Element Indian Restaurant — You don't have to go far to experience authentic Indian cuisine. Known for its modern interpretation of classic dishes and its insistence on only using high quality fresh ingredients, 5th Element offers a lunch buffet, night time dining, and takeout.
St Johns Town Center (8 miles from eTown)
Prati Italia — Within the popular shopping destination of The St. Johns Town Center, Prati Italia is a new locally-owned and operated restaurant that specializes in Roman-Style pizzas, housemade pastas, and artisan cocktails. Prati Italia debuted in January 2020.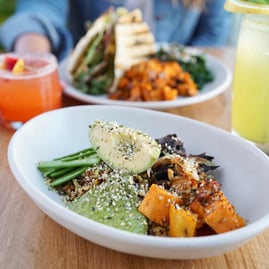 Fogo de Chao — Come hungry to this upscale Brazilian Steakhouse for all-you-can-eat meat carved tableside plus an extensive market table and salad bar. Fogo de Chao has specialized in fire-roasting high-quality meats since 1979 utilizing the centuries-old Southern Brazilian cooking technique of churrasco. Head on out for their Weekday Happy Hour at Bar Fogo, for discounted appetizers, wines, cocktails, and more.
True Food Kitchen- A restaurant inspired by the philosophy that food should make you feel better, not worse, True Food Kitchen believes delicious dining and conscious nutrition can go hand in hand. If that isn't convincing enough, they also offer Yoga & Brunch on the weekends- a match made in heaven!
Jacksonville Beaches (16 miles from eTown)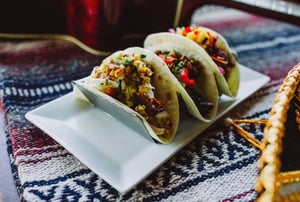 Flying Iguana — If you're in the mood for some gourmet tacos and tequila, this Latin American go-to in Neptune Beach is the place for you. Choose from the largest selection of tequila in town and some guacamole made at your table. And if tequila, tacos and guac aren't enough, the entree menu ranges from specialty enchiladas to Latin-inspired seafood.
Dwight's Bistro — Dwight's is a Jacksonville Beach special occasion destination, with mosaic decor and gourmet Mediterranean cuisine. You'll feel like you traveled across the world without even crossing the shores of the Atlantic Ocean. Reservations are requested as the chef creates the guest dining experience himself.
Downtown Jacksonville (18 miles from eTown)
Indochine — This Asian dining lounge is located in the heart of Downtown Jacksonville. Its fundamentally Thai menu boasts the perfect options for spice lovers, so be ready to take the heat.
Uptown Kitchen & Bar — This modern gem is located in the middle of Jacksonville's historic Springfield neighborhood. The diner's fresh ingredients take the stage in everything from classic Southern dishes to specialty tacos and burritos.
Whether you're wanting to dine downtown or closer to the coast, there are several ways to stuff yourself, gourmet style, year-round in Jacksonville. Have any more to add to this list? Please share your favorites below!
---
For more information about eTown, visit etownjax.com, call 904-559-1330 or email thehub@etownjax.com.