Press Release (May 24, 2021)
Alluvium Partners has announced that it has acquired a 17.8 acre parcel in Exchange West at eTown and plans to build a for-rent cottage style multi-family community, the first of its kind in Northeast Florida.

The new, secured community will be located in the recently announced Exchange West at eTown. Exchange West is located on the west side of the eTown Parkway/9B interchange, and will include a mixture of retail, office, and residential uses.
The first homes in the Alluvium community are expected to be completed in Fall 2023.
The community will feature 231 units of best-in-class, for-rent homes, comprised of single-unit cottages and townhomes, ranging from 685 square feet to 1,407 square feet. Each unit will feature private fenced-in backyards, built-in pet doors, and luxury finishes. Townhomes will be available with a direct-entry attached garage.

Residents of all ages will be offered the benefits of a low-density, low-maintenance, single-family lifestyle in a professionally managed community with a full suite of private amenities, including zero-entry saltwater resort style pool, clubhouse, fitness center, dog park, and playground.



"We are excited to be a part of another first-class development by The PARC Group and the Davis Family" said Ryland Lucie, a Principal with Alluvium Partners. "Our community will offer residents the benefits of a low-density single-family lifestyle with private entries, no neighbors above or below, private backyards and the carefree lock-and-leave convenience of renting vs. owning."
Founded in 2011, Alluvium Partners is a privately held, multidisciplinary real estate investment, development and management company based in Jacksonville, Florida. Alluvium's business lines include: (i) development (senior housing, medical office, and multifamily), (ii) investment management on behalf of its family-office affiliate, East Bay Capital, and (iii) property management through its affiliate, Starling, which is comprised of more than 300 employees.
To join the Interest List for this community, please CLICK HERE.
For more information about Exchange West, visit https://www.etownjax.com/exchange-west.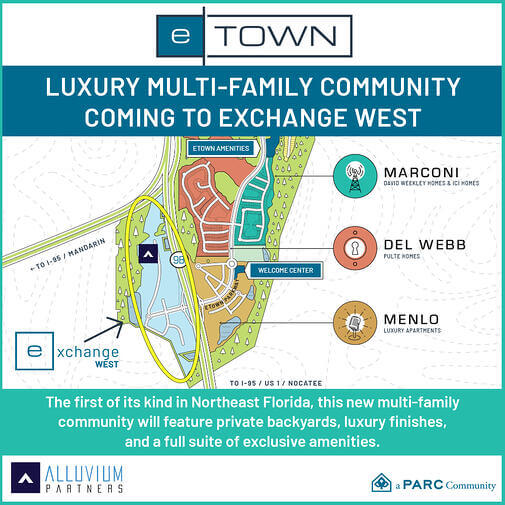 ---
On social media? Then be sure you're following us on Twitter, Facebook, Instagram and LinkedIn! For more information about eTown, visit etownjax.com or email thehub@etownjax.com.