The PARC Group, master developer of eTown in conjunction with a Davis Family Company, has announced that Publix Super Markets will anchor a new shopping center in Exchange East, located in the eTown Village Center. The retail center will be developed through a joint venture with Skinner Bros. Realty with approximately 48,000 sq. ft. dedicated to a Publix Super Market, Publix Liquors and Publix Pharmacy drive-thru. Additional retail space and multiple outparcels will add approximately 40,000 square feet to the center. Construction is scheduled to begin in late 2021 with an anticipated completion in early 2023.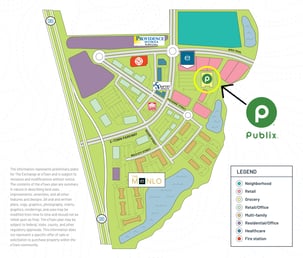 "We look forward to bringing these highly-anticipated retailers to eTown," said Michael O'Steen, Managing Director of Commercial Development at The PARC Group. "The success of eTown continues to draw interest from popular local and national retailers, and we remain committed to meeting the lifestyle needs of our residents and our growing community".
"We are excited to bring a first-class grocery operator and desirable retailers to the residents of the eTown community. This is just the beginning of what will emerge into a vibrant, village center for the master-planned community." said Riley Skinner, VP of Skinner Bros. Realty. Jed Davis, CEO of the Davis Family Office, noted "once again, The PARC Group has done a phenomenal job in developing a premier community for Northeast Florida which now includes delivering the retail environment that will be enjoyed by all residents in the area."
eTown is a master-planned community built around technology, sustainability and convenience. Thoughtfully designed, the community offers a combination of natural habitat, green technology, smart homes and authentic Florida living. Residents enjoy amenities, retail and more in a suburban setting with the conveniences of urban living. New homes in eTown are starting in the Mid-$300s. To learn more about eTown, visit etownjax.com.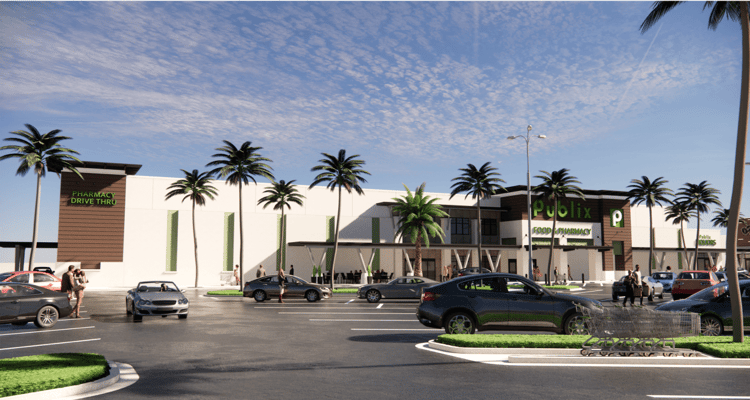 ---
In eTown, home-buyers can find neighborhoods and homes to complement a wide range of lifestyles and price-points. The PARC Group, eTown's master-developer, recently announced the last single-family home neighborhood as well as a mixture of retail, office, and residential space coming to the west of the eTown Parkway/9B interchange. To stay up-to-date on everything going on, sign up for eTown Development Updates.