Originally Featured on ParadeOfHomesJax.com
Twenty-five years into their marriage, Brian and Gretchen Wardle were looking for a change of scenery.
They had lived and raised two sons in Farmington, Utah, in the Salt Lake Valley for decades, where Brian also served in the Army National Guard until 2012. After their sons were fully grown, the empty nesters were looking for a new kind of lifestyle that would boost their health – one that was more relaxed, less crowded and closely connected with nature.
They turned to the First Coast.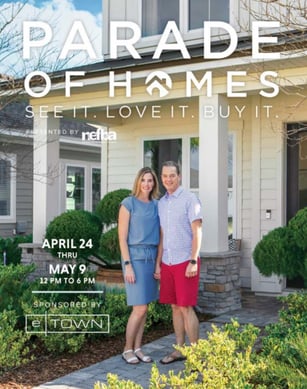 Gretchen's employer has a Jacksonville office, and she was allowed to transfer here. They began searching for exactly where they would live in Northeast Florida last spring. It wasn't long before they learned about eTown from a friend who lived in the community.
After touring several neighborhoods, they decided the Marconi at eTown was exactly what they were looking for.
Marconi is one of several unique neighborhoods part of eTown, a smart-living community that offers a quality of life enhanced by thoughtful design focused on convenience, technology and sustainability. The Wardles felt the area was an ideal fit for the healthy lifestyle they desired. eTown is filled with nature trails, lush open-air spaces, and plenty of outdoor activities because of the community's commitment to keeping the land 50 percent preserve.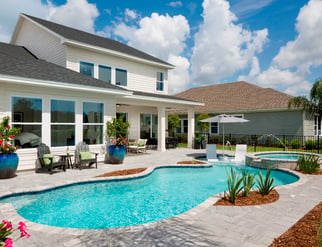 They moved into their Marconi home, built by David Weekley Homes, and have adored their new home and community.
"We love the fact that eTown is filled with green space," Brian said. "It gives the area a very peaceful, cozy feeling, like our little neck of the world."
Gretchen, a credit risk officer at UBS, and Brian, an HR manager at TaskUs, enjoy easy access to nature that supports their active lifestyles. As avid runners, they frequently use the neighborhood trails or, when it's cold outside, the high-tech fitness center included in eTown's 5-acre amenity center, Recharge.
Two other members of their family also appreciate the neighborhood's green space: their dogs. Ally, a German shepherd lab mix, and Buddy, a chihuahua, love the expansive dog park that is surrounded by nature but has fenced-in areas for both big and small dogs to ensure their safety.
In addition to the natural surroundings, eTown's community atmosphere has been a big plus.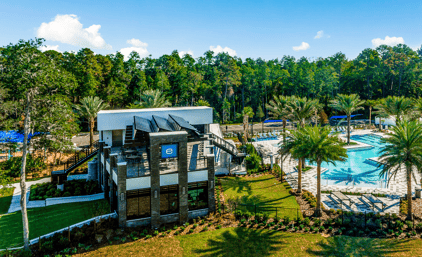 "The community is wonderful and very close-knit," Gretchen said. "We've met our neighbors in the surrounding homes, and they've all been so friendly. Even when we're walking the dogs or playing with them in the park, people always smile and wave."
Relocating to a different part of the country has come with some major adjustments. One of the biggest differences between the Salt Lake Valley and Northeast Florida is the sheer space. Whereas everything was densely populated where they lived in Utah, they've found Jacksonville to be far more spread out.
The good news is that eTown is in a highly convenient location between the St. Johns Town Center and Flagler Center. The Wardles are only minutes away from everything Jacksonville has to offer – without feeling like they live in a crowded city.
For Brian and Gretchen, moving to the East Coast and eTown has turned the "empty nesting" phase into a new opportunity. They look forward to more easily visiting their grandchild in Virginia and travelling outside the country in the future. In the meantime, they will continue to enjoy the warm weather, the beaches, and their new home as they celebrate their 26th anniversary together.
"It just feels great to be moving to a new area, getting to know new people, and transitioning to this new phase of our lives now that our kids are on their own," Brian said. "We're already getting used to the relaxed, welcoming environment on the First Coast."
---
On social media? Then be sure you're following us on Twitter, Facebook, Instagram and LinkedIn. For more information about eTown, visit etownjax.com or email thehub@etownjax.com.