UPDATED: 11/30/21
eTown currently offers 6 actively-selling neighborhoods as well as 5 home builders, which means many floor-plans to choose from! eTown also features actively-selling luxury apartments.
To search and view available homes, eTown is introducing the new Find Your Home tool. This is a user-friendly new home search feature on eTown's website that makes it easy to get in contact with your desired builder.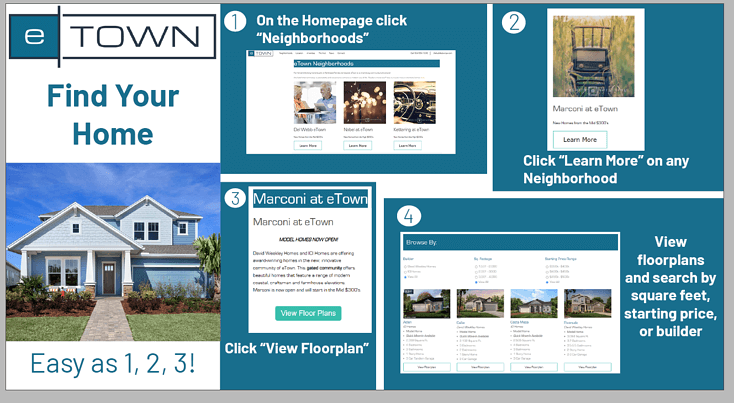 Use this cheat sheet to help you map out the diverse neighborhoods of eTown:
*To view builders' available floor-plans and elevations, click on the individual neighborhood.
Price: Homes start in the Mid $300's
Features: Gated Community, Active-Adult Living (55+), Private Amenity Center
Home Size: 1,343 - 3,500 square feet
Price: Homes start in the Mid $400's, Villas from the Mid $300's
Features: Gated Community, Dog Park and Playground
Home Size: 1,503 - 4,400 square feet
Price: Homes from the Low 400's, Gated Townhome Neighborhood from the Low $300's
Features: Zero Energy Ready Homes, Centralized Park Amenity
Home Size: 1,500 - 2,750 square feet
Price: Homes start in the High $500's
Features: Centralized Park Amenity
Home Size: 2,132 - 3,108 square feet
Price: Homes start in the Mid $400's
Features: Gated Community
Home Size: 1,500 - 2,300 square feet
Price: Town-homes start in the Mid $400's
Features: Gated Community, Swimming Pool
Home Size: 2,041 - 2,394 square feet
Price: Coming Soon
Features: Gated Community
Home Size: Coming Soon
Features: Luxury Apartments, Resort-Style Pool, Outdoor Games, Grilling Stations, and more
Home Size: One, Two, and Three Bedroom Apartments