2022 is set to be an exciting year in eTown as many of the recently-announced businesses and neighborhood services continue development. With construction well underway, residents and guests of eTown await the opening of these new additions to The Exchange into 2023. Read on for an update of coming-soon businesses to The Exchange at eTown.
1. Publix: The land for the new 48,000 square-foot Publix grocery store with a 14,000 square-foot Publix Liquor Store has been cleared and final permits have been received. Construction will begin in a couple of weeks, keeping the opening on schedule for the first quarter of 2023. An additional 12,000 square feet of retail space is also anticipated to be completed in Early 2023. Discussions are ongoing with potential retailers. To inquire about purchasing land or leasing space in eTown, please click here.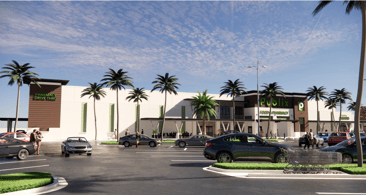 2. Heartland Dental will be opening an office in The Exchange. Heartland Dental's mission is to support dentists and their teams as they deliver the highest quality dental care and experiences to the communities they serve. The dental office is anticipated to open in 2023.
3. Duval County Fire Station 74: Construction on the fire station is nearing completion, and the Duval County Fire Department anticipate the opening within the next 2 months.
4. Gate Gas Station and Fresh Kitchen: Construction is well underway with an anticipated opening Late Summer 2022. GATE Fresh Kitchen is a fast-casual café serving a plethora of freshly-prepared options including 4 Rivers pulled pork BBQ sandwiches, YOBE® frozen yogurt with a toppings bar, BEST BEAN© coffee bar, and more. The eTown GATE will have 20 fueling stations and 4 ethanol-free fueling stations.
5. Olea eTown will be a new luxury apartment community designed for those 55 and older who desire an active-adult living environment. Olea eTown will consist of approximately 192 apartments, ranging from 1-3 bedrooms. Residents of this new apartment community will have access to a 9,000 square foot amenity center, including its own dog park. Olea eTown is anticipated to open in Fall 2023.
Announcements will be made as more Town Center additions are finalized. To subscribe to updates, register here or follow @etownjax on social media.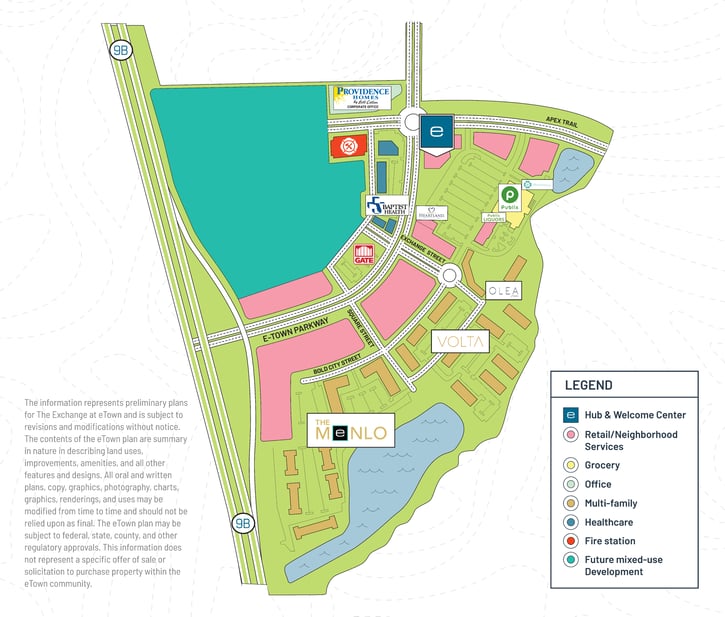 To learn more about eTown's actively-selling builders and neighborhoods, click HERE.